Holst-Warhaft's poems have appeared in many journals in the US such as Literary Imagination, Literary Matters, BookPress, Seneca Review, Antipodes, Ithaca Lit, Per Contra, UK (Agenda), Greece (Poetry Greece), and Australia (Southerly). Her poems have also appeared in anthologies such as The Gospels in Our Image: An Anthology of Poems Based on Biblical Texts (ed. D. Curzon), New York: Harcourt Brace, 1995, Like a Fragile Index of the World (poems selected by Alice Fulton for the inauguration of Cornell President David Skorton) 2006, From the Finger Lakes: A Poetry Anthology (eds. P. Fortunato and J. Hopper), Cayuga Lake Book, 2016.
Holst-Warhaft was Poet Laureate of Tompkins County for 2011 and 2012.
Penelope's Confession
New Jersey and Athens: Cosmos Publishing, 2007 (bi-lingual edition).
The book was launched in Athens at Ianos Books in Athens by Katerina Anghelaki-Rooke, Iakovos Kambanellis and Mariza Koch. It was launched in Ithaca, NY at The Bookery.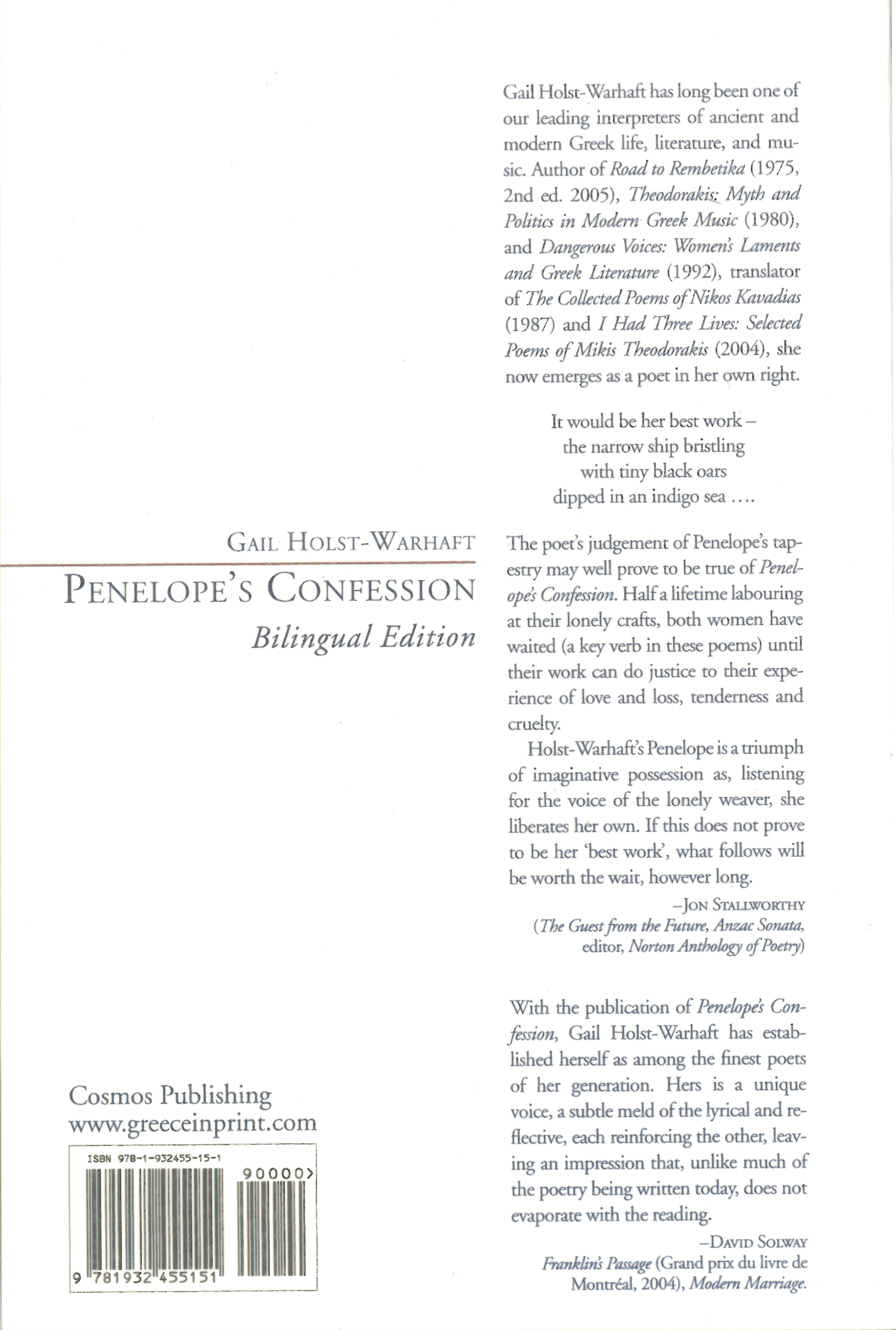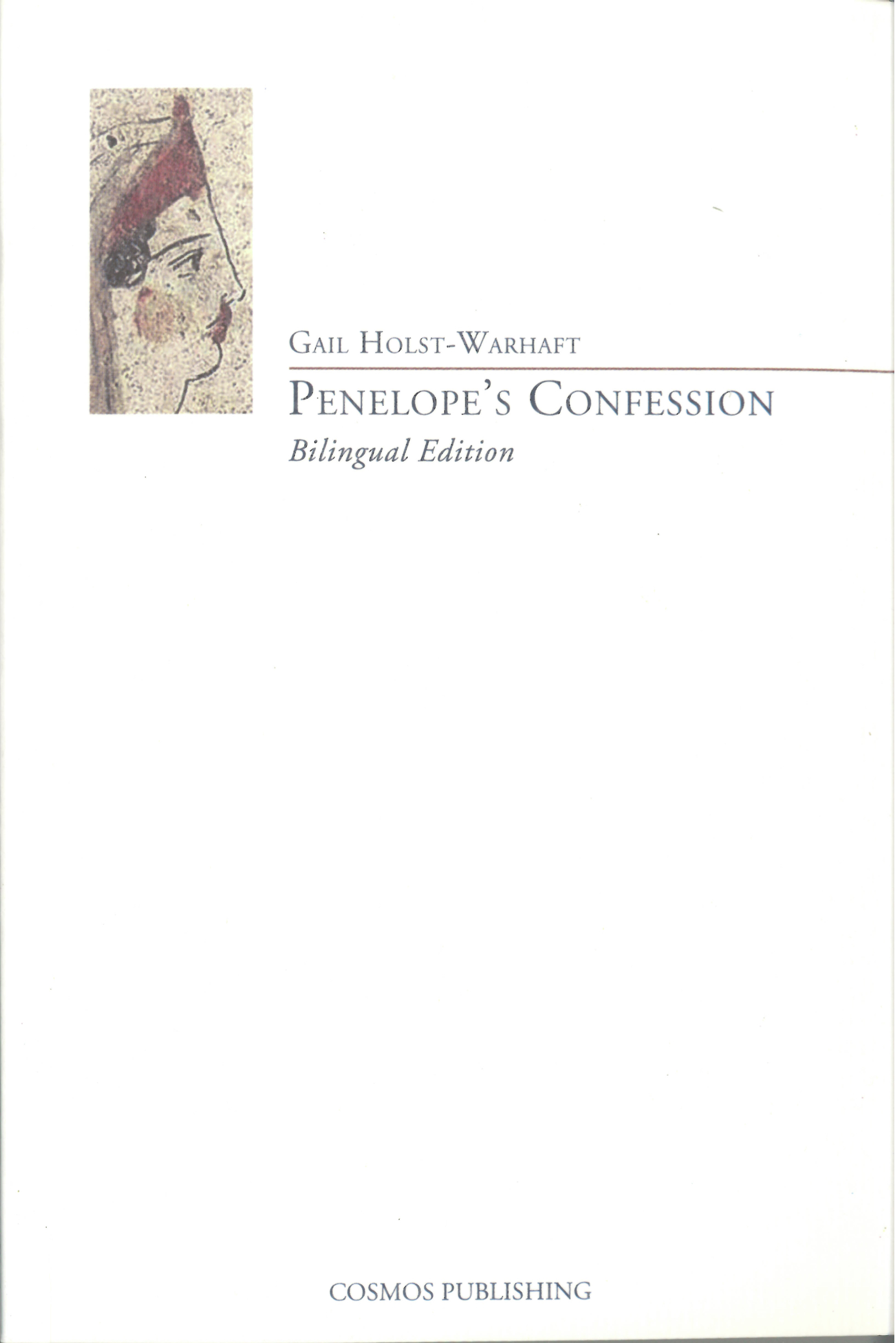 Holst-Warhaft's **Penelope** is a triumph of literary possession as, listening for the voice of the lonely weaver, she liberates her own.

– British poet Jon Stallworthy (The Guest from the Future, Hand in Hand)
With the publication of Penelope's Confession, Gail Holst-Warhaft has established herself as among the finest poets of her generation. Hers is a unique voice, a subtle meld of the lyrical and reflective, each reinforcing the other, leaving an impression that, unlike much of the poetry being written today, does not evaporate with the reading.

– David Solway, Franklin's Passage and Modern Marriage
Lucky Country
Lucky Country (poems), Fomite, September 2018 (forthcoming)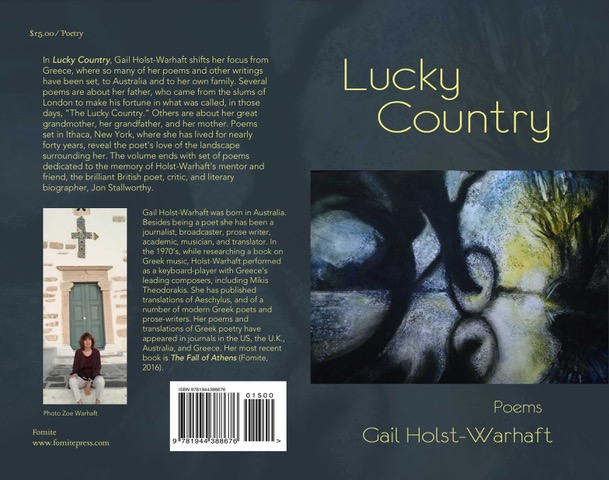 Two poems for Chana Bloch
In Shofar 36.2, 2018. Available here.