---
Ένα ταξίδι στο ρεμπέτικο για μικρούς και μεγάλους
A Journey into the Rembetika for Young and Old
---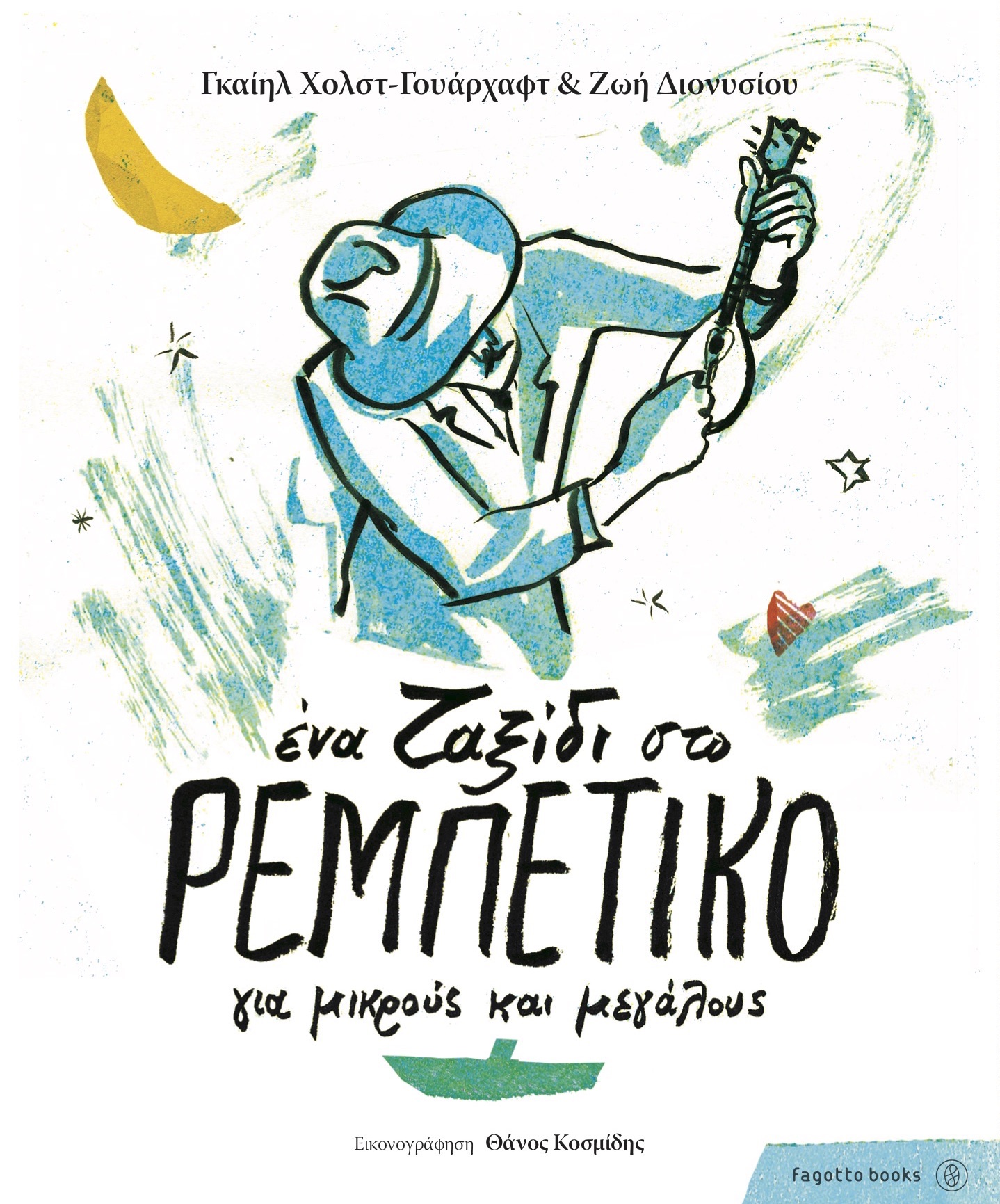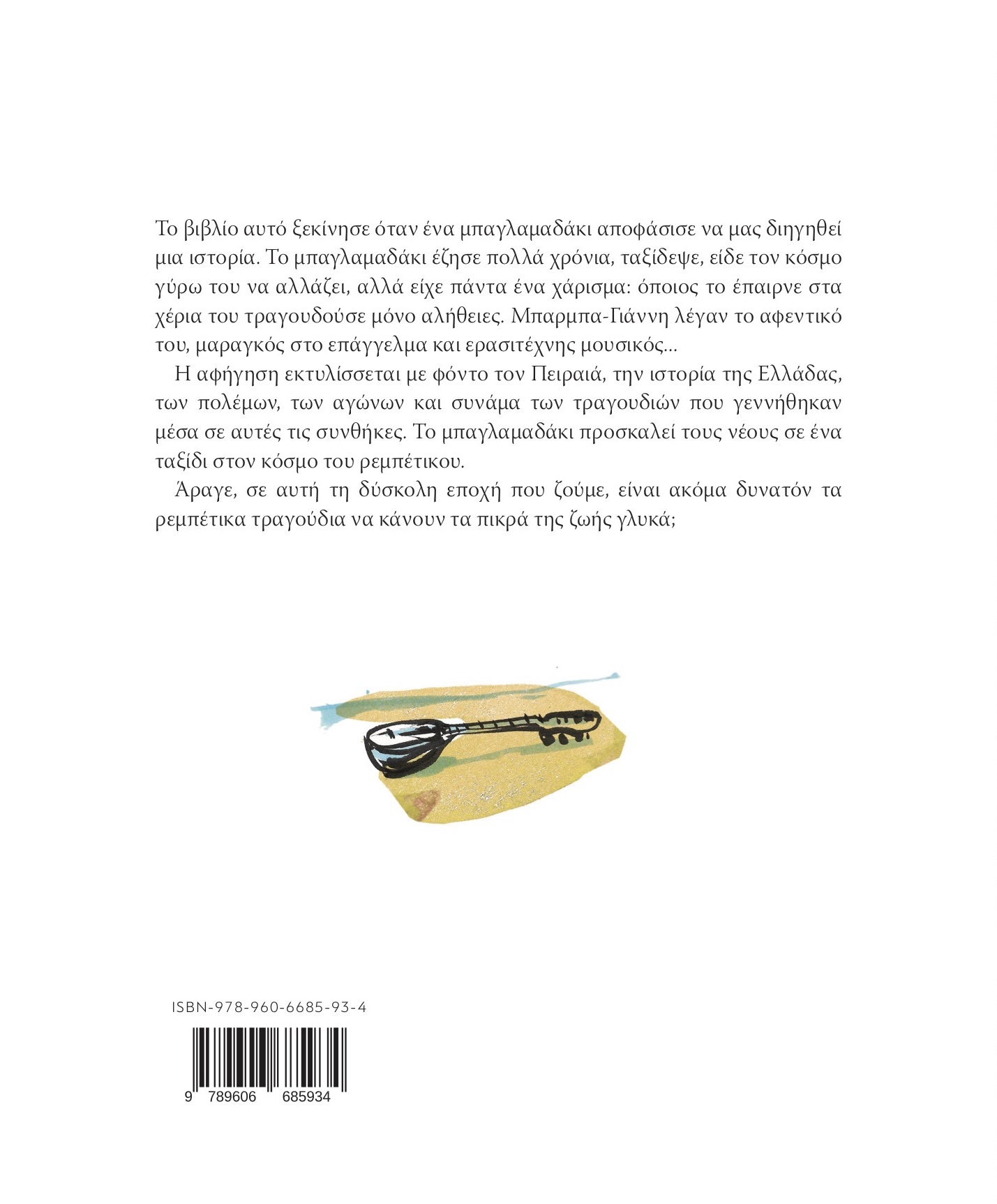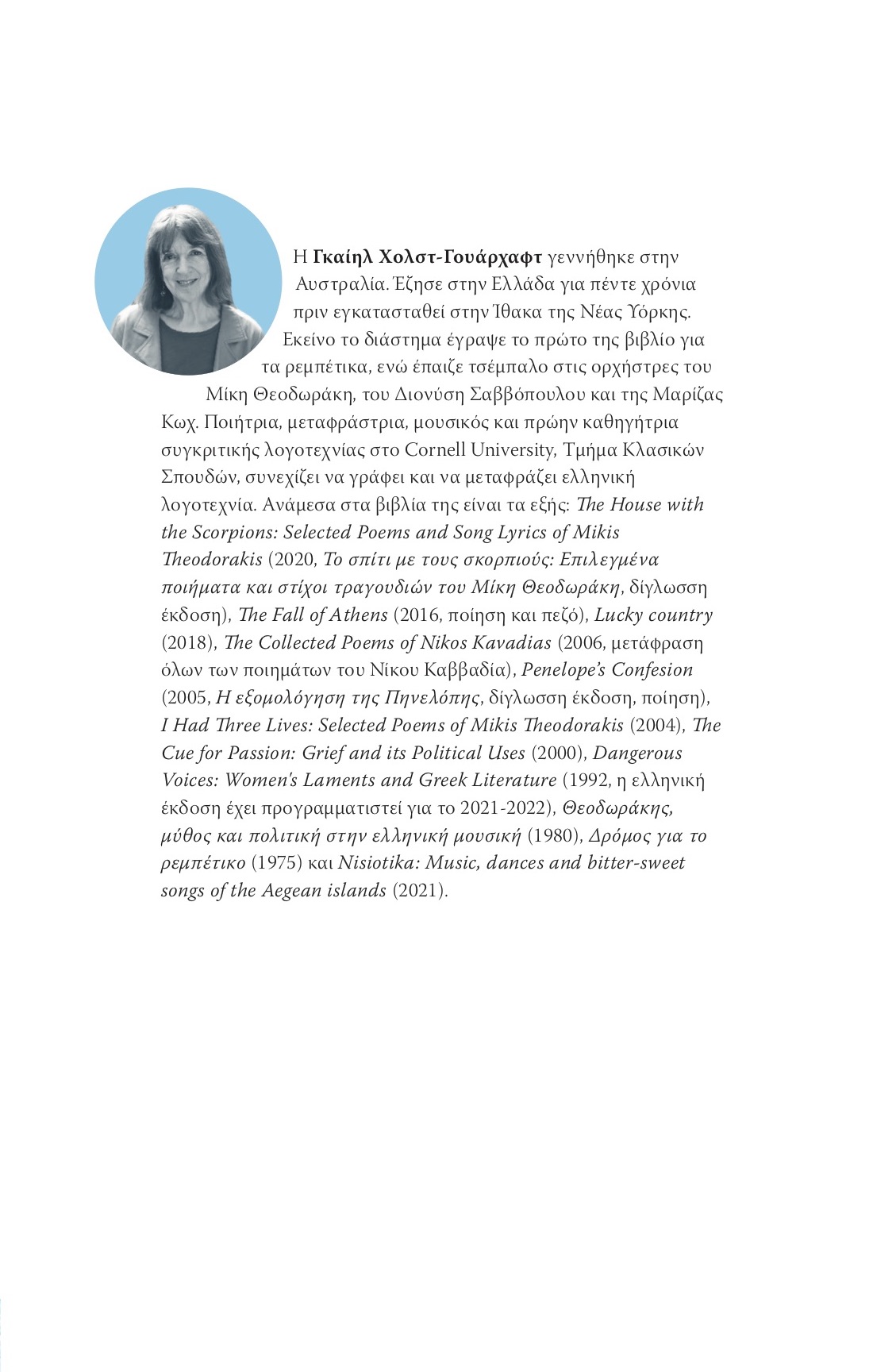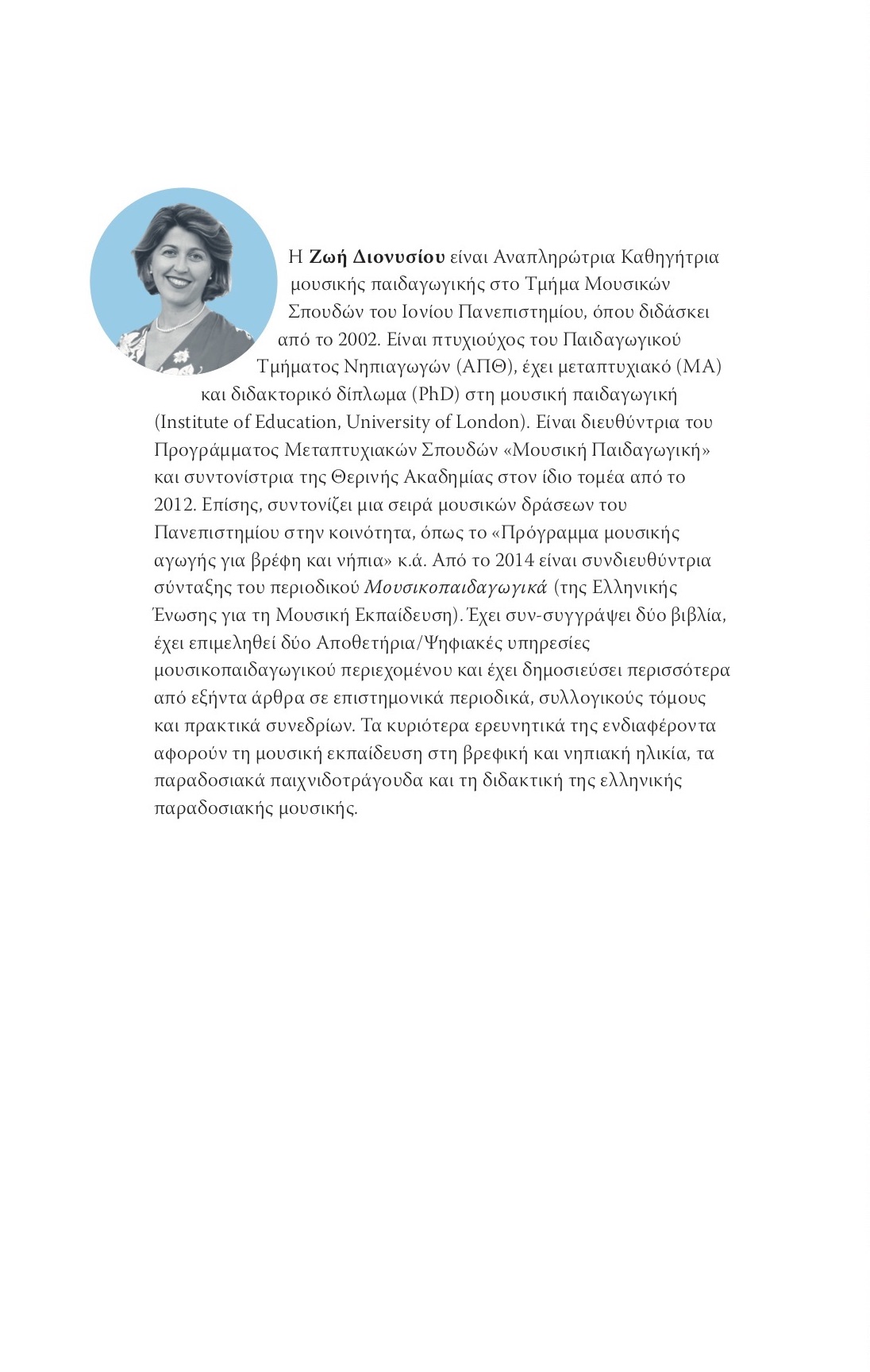 Click here to listen to a radio interview about Greek music.
---
Nisiotika:
Music, dances and bitter-sweet songs of the Aegean islands
---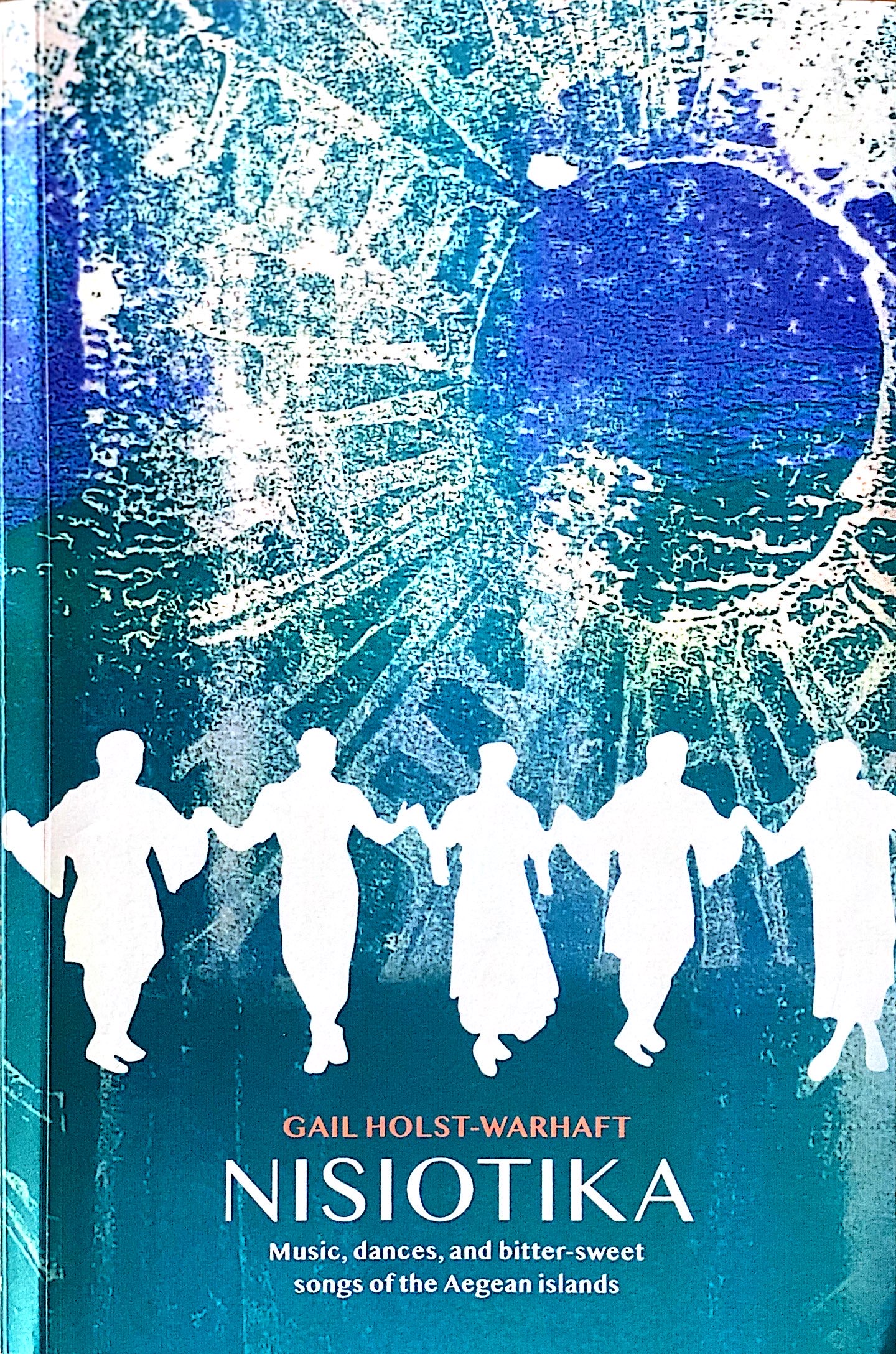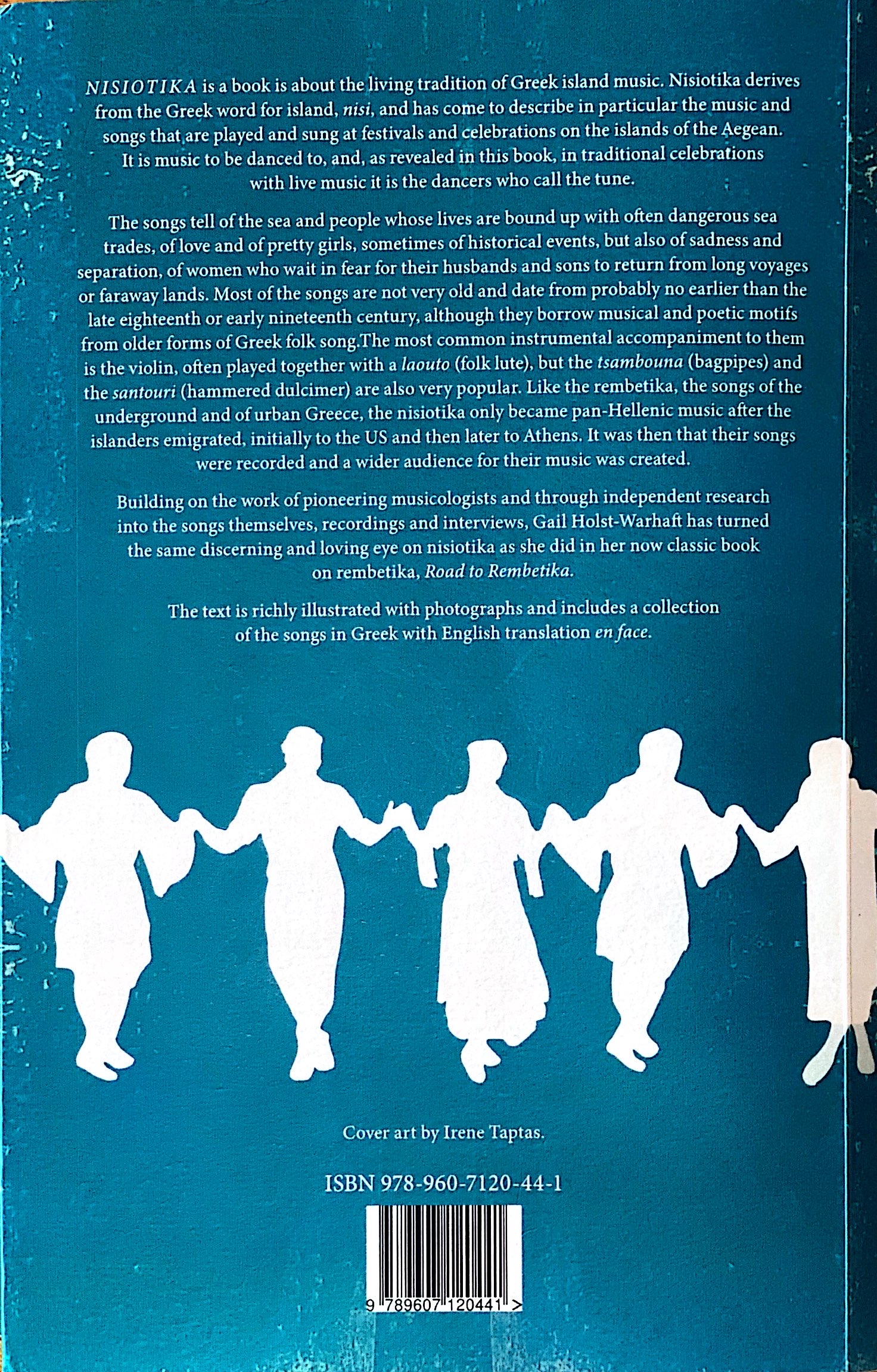 This book is about the living tradition of Greek island music. Nisiotiotika — which means 'island-like' — has come to define the music and songs that are played and sung at festivals and celebrations on the islands of the Aegean. Above all, this is music to be danced to, and as the book reveals, it is the dancers who call the tune.
The songs tell of the sea and those that engage in often dangerous sea trades, of love and of pretty girls, sometimes of historical events, but also of sadness and separation, of women who wait in fear for their husbands and sons to return from long voyages or faraway lands. Most of the songs are not very old and many probably date no earlier than the late 18th or early 19th century, although they borrow musical and poetic motifs from older forms of Greek folk song. The most common instrumental accompaniment to them is the violin, often played together with a laouto, or folk lute, but the bagpipes and the santouri, or hammered dulcimer, are also popular.
Like the rembetika, the songs of underground and urban Greece, the nisiotika only became pan-Greek music after the islanders emigrated, initially to the US and then later to Athens, when their songs were recorded and where a wider audience for their music was created.
Combining research by pioneering musicologists and her own research into recordings, the songs themselves and through interviews, Gail Holst-Warhaft has turned the same discerning and loving eye on this subject as she did in her now classic book on rembetika, Road to Rembetika.
The text is illustrated with many photographs and includes a collection of the songs in Greek with English translation en face.
For videos for Nisiotika songs and dances, click here.
Forthcoming books
Το μπαγλαμαδάκι που ήξερε να κάνει τα πικρά γλυκά Μια διαδρομή στο ρεμπέτικο για μικρούς και μεγάλους. (The Baglama Who Knew How to Make the Bitter, Sweet) co-authored with Zoe Dionysiou. Athens, Greece. Fagotto Publishing.

Επικίνδυνες φωνές. Μοιρολόγια και ελληνική λογοτεχνία. Greek edition of Dangerous Voices: Women's Laments and Greek Literature (1992) with additional chapters on the laments of Epiros. Athens, Dodoni Editions.
Articles
"Greek Death Rituals and Laments," In Oxford Handbook of Slavic and East European Folklore (forthcoming 2022).

Obituary, Mikis Theodorakis. London The Guardian. (Read)

"Transgressing Musical Borders: Re(m)betika as Liminal Music." In Borders and Borderers: Explorations in Identity, Exile and Translation (Durrell Studies 1), ed. Richard Pine and Vera Kondinari. Newcastle upon Tyne, Cambridge Scholars Publishing.

Three Poems published in Mediterranean Poetry. (Read)

One poem published in Anthology: Poems for the Year 2020 (ed. Merryn Williams, Shoestring Press, UK).
Upcoming Events
November 8, 2022, 7 PM
Nostalgia for the East: The Bitter-Sweet Poetics of Loss
Location: ASCSA Cotsen Hall - Hybrid Lectures, Anapiron Polemou 9, Athens 106 76
Register Here

November 11, 2022, 7 PM
Book Presentation: The Greek edition of Holst-Warhaft, Dangerous Voices: Women's Laments and Greek Literature
Location: Bookstore Books +
There will be a performance of polyphonic laments by Nota Kaltsouni and Antigoneia.

For interviews and appearances, contact Gail Holst-Warhaft at